NOVA SATURN DVR WOOD LATHE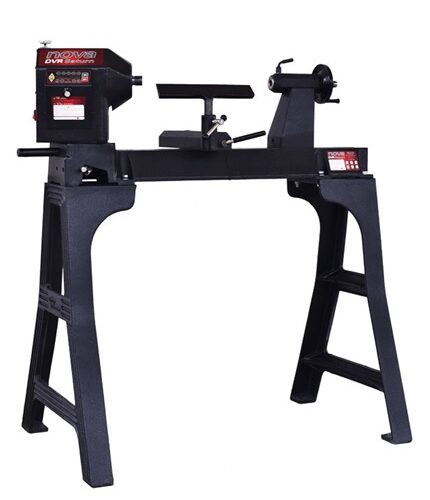 NOVA SATURN DVR LATHE
WOOD LATHE
SOLID CAST IRON CONSTRUCTION
Combines the best features of larges lathe with state of the art technology to make your turning more efficient. Saturn DVR is the most versatile lathe on the market, able to handle a wide range of work from very small pens to large bowls and long spindle works.
Standard Features:
Intelligent Control

Adaptive Control™ Software is able to measure the weight of the work piece and continuously adjust performance accordingly
Sesnors are able to detect faults in setup and advice in issues such as chisel dig in or spindle lock.

High Torque Motor to ensure the lathe is able to handle large work pieces
Faster and more efficient turning

No belt or pulley mechanism to minimise vibration for maximum turning smoothness
DVR Motor is controlled by a computer which automatically adjust the parameters for optimal performance

Stationary lathe capabilities in a compact workspace
Exceptional structural strength with solid cast iron construction, trapezoidal, vibration dampening bed design and heavy-duty TRIMAX triple bearing system
Greater Capacity

16″/406mm inboard
29″/737mm outboard (using optional Outrigger Accessory)
24″/610mm Between Centers
Fully extendable beds – (optional accessory) 20″/508mm per segment
Cost-effective and easy to add capacity.

Plug 'n' Play – Easy to use, push-button electronic variable speed with forward and reverse.
| | |
| --- | --- |
| Model | NOVA DVR SATURN |
| Bowl Turning Capacity | 406mm / 16″ onboard |
| Between Centers | Standard 610mm/24″ (Extendable using optional bed extension) |
| Programmable Preset Speeds | 10 |
| Speed Range | 100 – 5000 rpm |
| Spindle Thread | M33 x 3.5 RH Tailstock 2MT Hollow |
| Swivel Head | 360° Swivel, lock at any position. Quick lock @ 0°, 22°, 45° and 90° |
| Indexing | 24 Division |
| Power | 2 HP (220 V) |
| Weight | 141 kg |
| Machine Dimension | 1092 x 280 x 490mm |
*Design and specifications are subject to change without notice & obligation
*Customization of machine designed and function to specific requirements is available, contact us for more details
*Machines may be shown with some options