Fully-automaticMitre Cutting Saws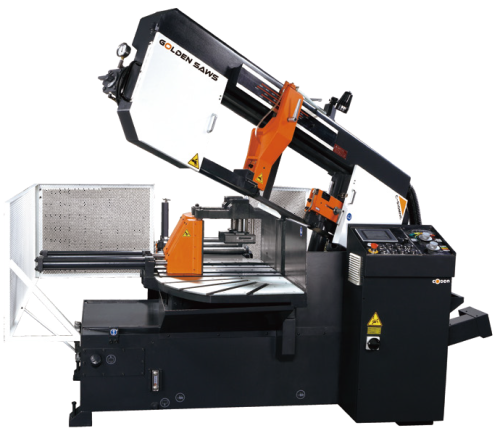 Standard Features:
Swivel head with protractor for angle cutting (0° – 60°)
SNC programmable system
Touch screen control panel
Hydraulic full stroke shuttle vises
Hydraulic blade tensioning
Variable blade speed control
Blade pressure & feed rate control
Power-driven blade brush
Integral coolant system
Automatic work height sensor
Work light
Flushing hose
Tool box & manuals
Optional Accessories:
2M Roller table
Powered Roller Table
Hydraulic Chip Conveyor
Vise Pressure Regulator
Smart NC Automatic Mass Production Band Saws
Smart NC-100 (SNC100) technology provides most of the benefits of NC controlled saws at a mere fraction of the cost. SNC100 controls are programmable to 100 different jobs including quantity and length of cut. The control automatically compensates for Kerf loss after data input and requires no manual calculation of number of times to index. The control also automatically shuts down the machine, blade motor, and hydraulics, once the programmed number of cuts or out of stock situation has been achieved.  The system includes an error feedback function enabling rapid troubleshooting through an error code to be displayed in the event of a malfunction.
SNC-100 Features include:
Touch panel entry of up to 100 programmable jobs (Quantity and length)
Stored program(s) may be easily recalled and executed at Will.
LCD Screen with Film Type Key Pad
Blade Speed Display
Blade Life Indicator
Feed Vise Position Display
Automatic Kerf Loss Compensation & Automatic Multiple Indexing up to 9999mm
Save-a-Blade Feature – The shuttle vise will automatically retract the material slightly after cut-off, so a blade can avoid the undesirable abrasion with material, improving cutting tool life.
Error Code Display Provides simplified self-diagnostics.
Model
C-510MNC
C-650MNC
C-700DMNC
C-800DMNC

Capacity 

0

°

360mm
420mm
450mm
500mm

45

°

360mm

400mm

450mm

450mm

60

°

230mm

250mm

300mm

400mm

Capacity     (HxW)

0

°

330 x 510mm

380 x 650mm

450 x 700mm

400 x 800mm

45

°

330 x 330mm

400 x 400mm

450 x 520mm

400 x 550mm

60

°

230 x 230mm

400 x 250mm

450 x 300mm

400 x 400mm

Motor

5 HP

7.5 HP

7.5 HP

7.5 HP

Blade Size

5000 x 34 x 1.10mm

5300 x 41 x 1.30mm

5800 x 41 x 1.30mm

6600 x 54 x 1.60mm

Work bed height

783mm

750mm

750mm

1085mm

Floor Space

3300x2750x2200mm

3600x2900x2500mm

4230x3300x2720mm

4060x3500x2312mm

Weight

2135 Kgs

3000 Kgs

3800 Kgs

7900 Kgs
*Design and specifications are subject to change without notice & obligation
*Machines may be shown with some options